Argyll and Bute was hit by a 3.3 magnitude earthquake overnight, with Lochgilphead being named as the epicentre.
The tremors are said to have been felt as far as 40 kilometres away from Lochgilphead, including in Cowal.
One Strachur resident told us he was woken up by the noise, which he presumed was his washing machine.
David Galloway, a seismologist at the British Geographical Survey told this newspaper: "We record around 200 to 300 earthquakes across the UK each year. Most are of a low magnitude so aren't felt by the public.
"However, last night around quarter to two we began to receive reports of tremors being felt in Achnamara, six kilometres away from Lochgilphead.
"Earthquakes are caused by movement in the Earth's tectonic plates, and while the UK is far away from the plate boundaries the movement is sometimes still felt."
Brian Baptie, also a seismologist at BGS added: "We began to receive reports of this earthquake in around ten to 15 minutes from across Argyll. Having this information is incredibly useful to us.
"The reports received came from people who had felt buildings shake, or windows rattle.
"The general advice for larger earthquakes in to duck and cover- perhaps hide under a table or move to a door way. However, damaging earthquakes are very rare. The last report of a magnitude five earthquake was in Inverness during the 20th century."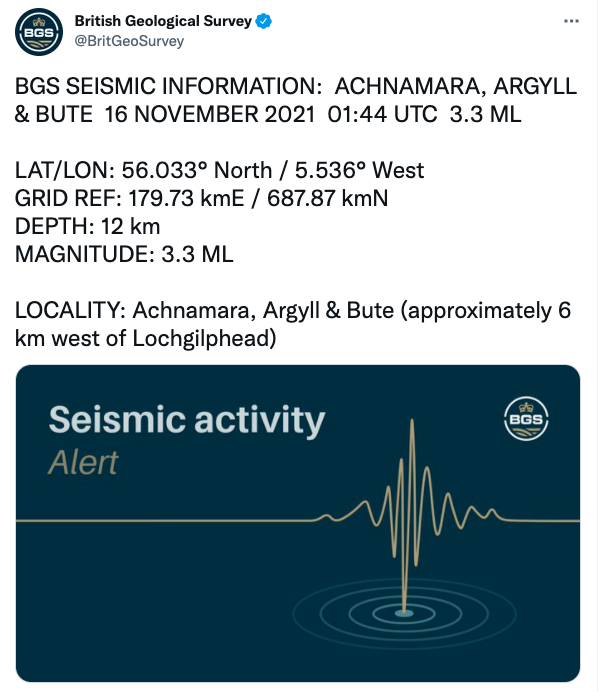 A statement from BGS said: "We can confirm that an earthquake with a magnitude of 3.3 ML occurred at 1.44 UTC on November 16, near Achnamara, Argyll and Bute, approximately six kilo metres west of Lochgilphead. It was felt by many people in the area up to approximately 40 kilo metres from the epicentre. The shaking was strong enough to wake people and to rattle buildings.
"Historical observations of earthquake activity in Scotland date back to the 16th century and show that despite many accounts of earthquakes felt by people, damaging earthquakes are relatively rare.
"Most earthquake activity in Scotland is north of the Highland Boundary Fault, on the west side of mainland Scotland, and there are fewer earthquakes in northern and eastern Scotland. This earthquake activity results from movement on existing geological faults in the Earth's crust."
Data from the British Geological Survey shows that between 200 and 300 earthquakes are detected in the UK every year, with tremors of between 3.0 and 3.9 magnitude happening on the mainland once every three years on average.
The overnight earthquake also registered on all the seismographs across Ireland.